Ductwork Installation, Cleaning, & Repair
While installing the necessary heating and cooling systems in your home is crucial, this pricey equipment is useless without suitable ductwork. The network of pipes and vents known as "duct working" allows your HVAC-R systems to bring warm or cool air into your house. Lack of ducting causes air leaks, which raises the cost of operating your systems. Furthermore, improper ducting may prevent your HVAC-R systems from operating to their full capacity.
Use Your HVAC System to Its Full Potential by Calling
Armanch is prepared to ensure that your HVAC-R system is operating flawlessly, taking care of the ducting installation, maintenance, and cleaning.

Our experts are prepared to visit your house, inspect your ductwork, and make any recommendations needed to increase its effectiveness. When installing a new HVAC-R system, we make sure the ducting complements rather than competes with the heating and cooling equipment.
You can't see or hear it, but you should take care of your ductwork! For assistance, contact Armanch Heating & Air Conditioning's ductwork servicing experts right away.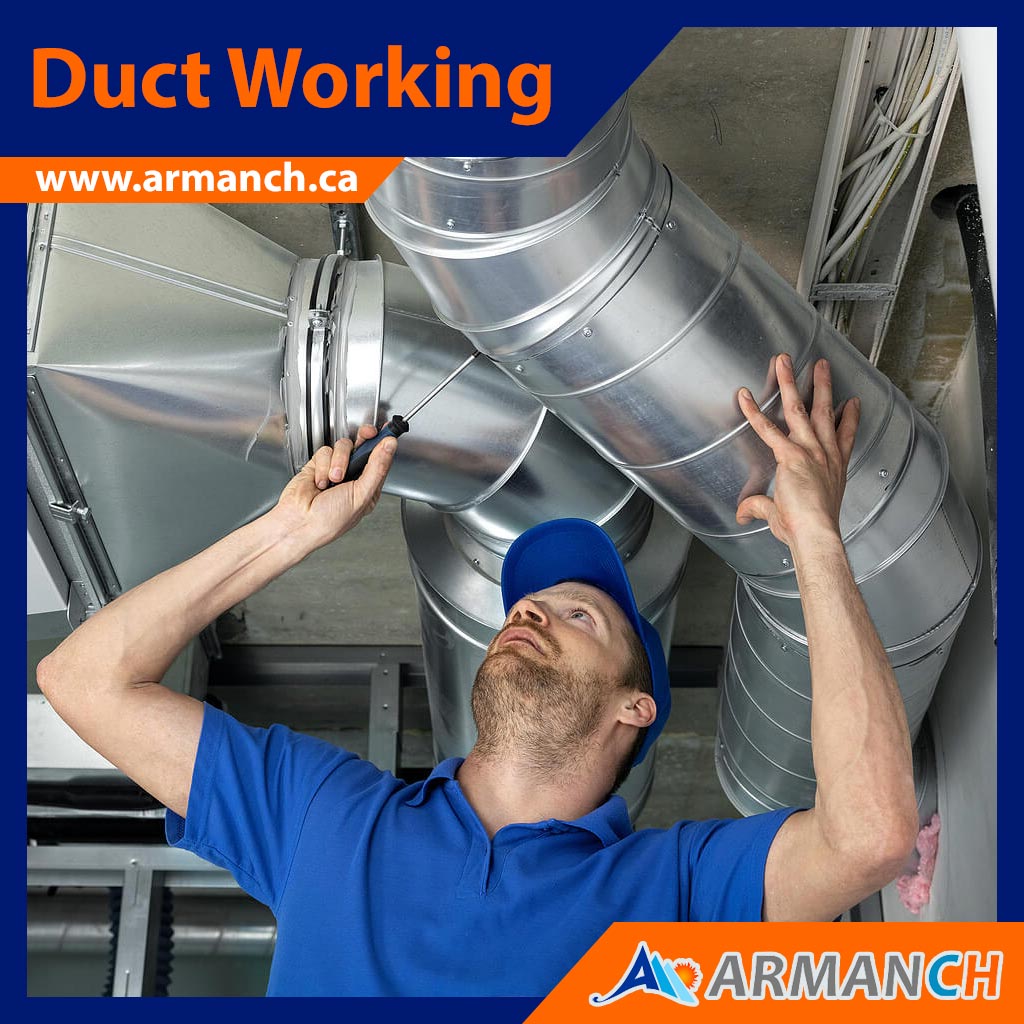 When installing ductwork, inexperienced installers make a number of errors. Ensuring your HVAC-R system is functioning properly requires more than just creating airways. To ensure that your ducting is done correctly the first time, you must enlist the aid of experts.
The following are examples of common ductwork problems:
Sealing Problems - If your ductwork isn't sealed, it might leak a lot of air into the crawlspaces of your home. This may result in higher energy costs and much less airflow in your home.
Poor planning: Ductwork should be installed in a thoughtful manner. Your systems will have to work harder than necessary if it takes too long. The ductwork that is not adequately sized may also be unable to handle the load generated by your HVAC-R systems.
Inadequate returns: To regulate temperature, HVAC-R systems use returns to draw air back into the system. Your HVAC-R systems will operate longer than necessary and cost you more money if your ductwork doesn't have enough returns. Additionally, if you don't have enough returns, your home's warmth will be unevenly distributed.
Complete HVAC Duct Working Service
All of your ductwork repair, installation, and cleaning needs may be met by Armanch Heating & Air Conditioning, which has sites around the country. Each of our locations is separately owned and run, and all of them offer industry-leading guarantees on their services.
We are prepared to make sure that the ductwork in your HVAC-R systems is operating as effectively and comfortably as possible.
Call [+1-647-676-7664 ] for Complete HVAC Ductwork Service