Local Air Handler Services
Air Handler Repair & Replacement Services Near You!
You likely have an air handler system if you live in a warm region with many hot days. As a component of a heating, ventilation, and air conditioning system, an air handler is used to control and move air. It enhances the comfort of your house by working with your air conditioner. Our team of qualified professionals can assist you if you need help installing, maintaining, or fixing an air handler.
At ARMANCH, we offer trustworthy and effective HVAC services around the nation. We take great pride in being known for providing exceptional customer service, dependable work, and promptness. In all HVAC installation and maintenance services, our team of experts is very informed, talented, and experienced. We appreciate each client's home and time, so we always show up on time for appointments and leave your house as tidy as when we initially arrived.
Expert Air Handler Repair
Your air handler may be the source of the rattling noise coming from your air conditioning system. Due to the fact that they disperse cooled air throughout your home, air handlers are one of the most crucial parts of any heating and air system.
Issues with your air handler can be caused by a number of different components, including:
Blower/fan
Controls
Filters
Heating and/or cooling elements
Humidifier
Mixing chamber
Vibration isolators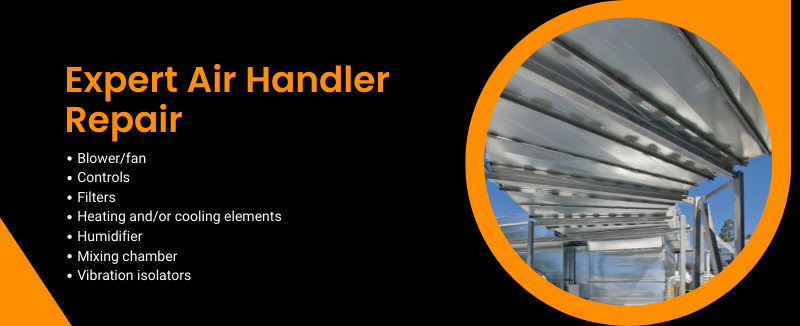 Air Handler Replacement Services
Our team of experts can assist you in making the best choice for your new air handler installation or replacement to make sure your house is cozy and energy-efficient. Before providing recommendations, our air handler specialists measure and examine each house. Our air handling installation specialists will work with you to create a new air handler system that is tailored to your needs, lifestyle, and home.
Our team will check the following to ensure you install the air handler that's best for you:
Ensure the unit is the right size for your space
Schedule maintenance intervals for your unit
Ensure your new air handler fits your budget
Provide energy-efficient options
Call Our Air Handling Experts Today!
You need a group of experts you can rely on when you need help fixing or installing a new air handler. At ARMANCH, we're committed to offering each of our customers a great level of service, treating them with honesty and respect, and charging them fairly. We promise that our professionals will show up on schedule, quickly assess your air handler problems, and provide you with a clear explanation of your options and their associated costs.
Contact our experts right away so we can come and look at your HVAC system.