Water Heater Services
You can understand the suffering of water heater issues if you've ever jumped into the shower anticipating the steamy pleasure of being bombarded with freezing sheets of water that make you wonder what has happened to you. And to prevent another arctic encounter, you've undoubtedly kept up with maintenance and repairs since then.
Water Heater Repair Service
It's only sometimes necessary to throw out your system and install a new one if it has a problem. We'll thoroughly inspect the heater to identify the problem's root cause and provide you with choices for resolving it.
Should I Repair or Replace my Water Heating system?

We make investments in pricey appliances to ensure their maximum longevity. Naturally, you will only want to invest a little money in that investment. Therefore, the following variables should be taken into account while deciding whether to repair or replace:
Your water heater's age

Without using more water, your heating costs are rising.

You need to schedule maintenance repeatedly.

A straightforward guideline is to determine whether the repair cost is greater than or less than 50% of the cost of a new installation.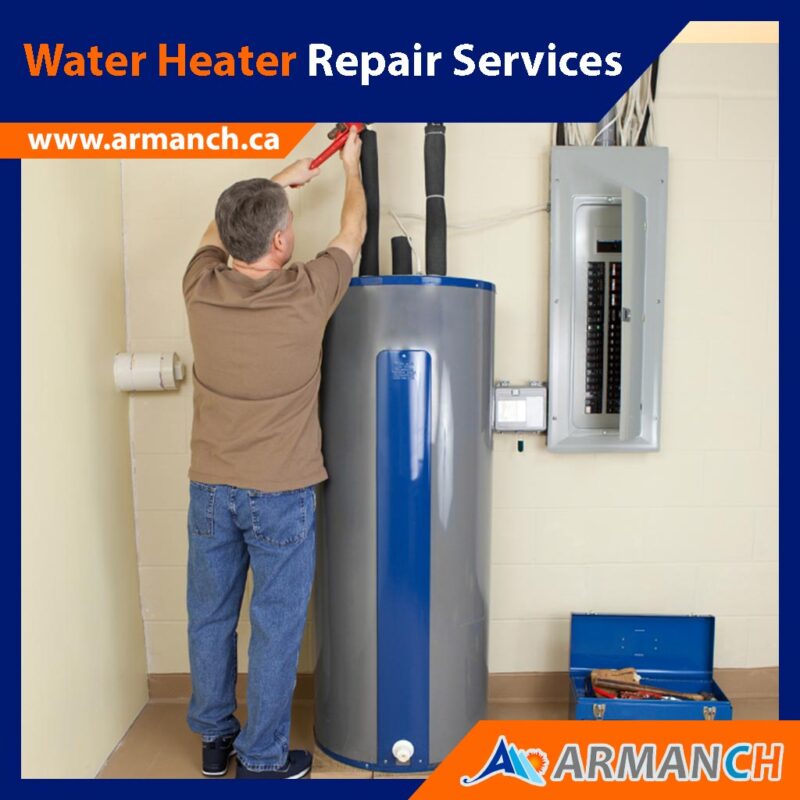 Signs of a Failing Water Heater
You'll almost always notice a few telltale signs that it's time to call in the experts. Some of the typical red flags to watch out for are as follows:
Hot Water Not as Hot as Normally

the water heater is dripping with water.

Streaming from the Water Heater

Unsilent Water Tank

The Tank Has Corrosion or Rust

The arrival of Hot Water Is Delayed
When you have proof that something is amiss, let us know when and where to meet you, and we'll assist you in finding the issue.
Benefits of Getting a New system
We search for the positive aspects of even the less-than-exciting task of installing a new heater. And there are several in this instance:
Efficacy and Financial Savings
Recovery Rate for Hot Water
Save room
Creating Less Waste
Get in touch with us
To install your new water heater right now, contact Armanch Heating & Air Conditioning! Be bold and call with any inquiries, regardless of whether you know what you want to replace your current system with or need assistance comprehending your alternatives.
Our Water Heater Experts Are Prepared to Address Your system Issues! Call Us Right Away!

Follow Our Instagram Page!