All Your Tankless Water Heater Needs
For any tankless water heater installation or repair, Armanch is your nearby option. We know the importance of dependable hot running water and the plumbing requirements of homes and businesses in Toronto.
Tankless water heaters are cost-effective, environmentally friendly, and energy-efficient but need specialized installation. Regular upkeep and repairs need to be handled by qualified experts. The Armanch team possesses all these abilities.
Tankless Water Heater Installation & Replacement
Tankless water heaters are installed by us, along with all the required gas and water plumbing connections, and their proper performance is verified. We will make any alterations to your electrical system and wiring to establish an electric water heater safely and effectively.
Our licensed plumbers have received training in how to install cutting-edge machinery. Although more expensive, installing gas connections and upgrading electrical systems are necessary to get the most out of your water heater.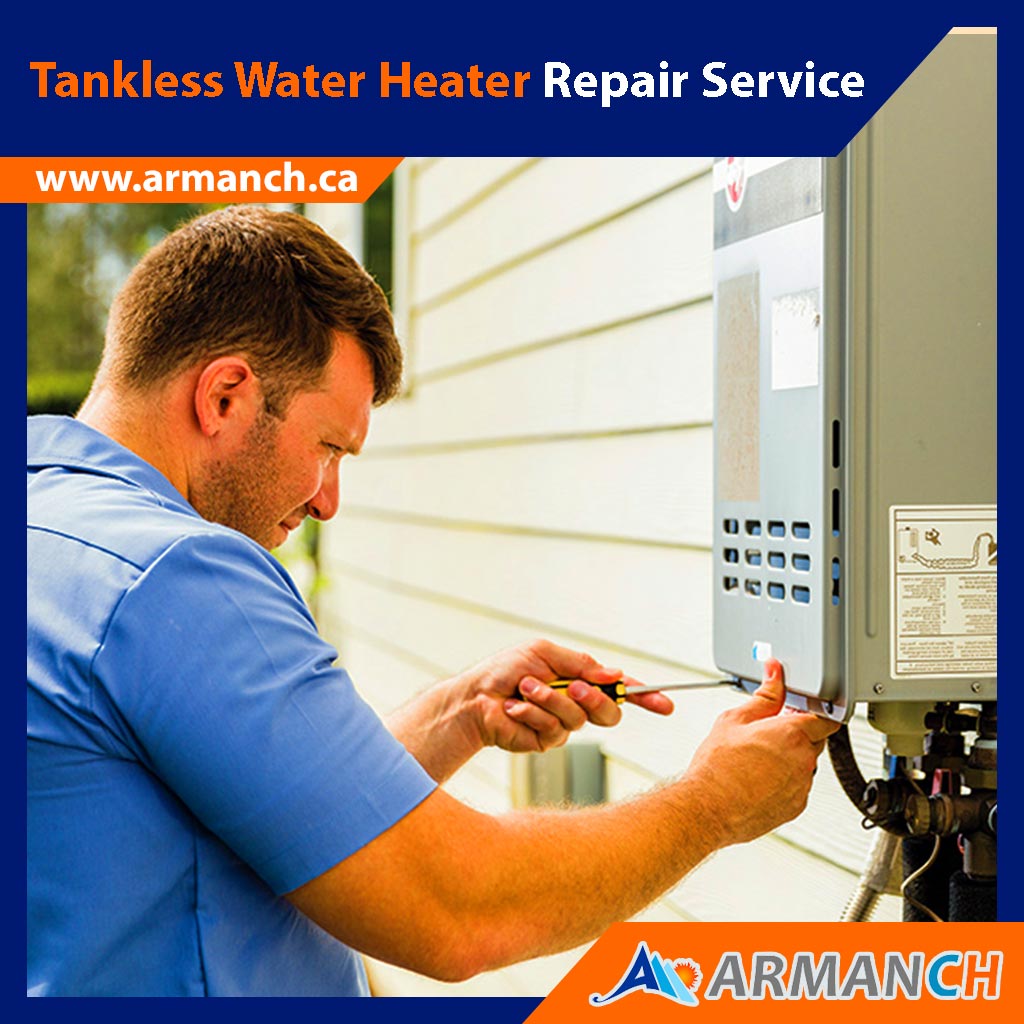 Advantages Of Tankless Water Heaters

For any water heater installation or repair needs, Armanch is your go-to plumber. Although we are experts in all kinds of water heaters, tankless water heaters are essential. Although they are often substantially more efficient overall, tankless water heaters have several distinct advantages over traditional water heaters.
Numerous of these are easily accomplished and consist of:
Monthly Cost Savings: Tankless heaters have higher upfront installation costs, but because of their increased efficiency, there is less energy loss, and your electricity bills will be cheaper every month. As tankless models typically save money over time, you should eventually see a return on your investment for your purchase.

Space Saving: Since there isn't a tank, the system typically only includes a heating element, some electronics, and a few water and gas connections. It might be small enough to fit within a closet, freeing up more space for storage.

It might be small enough to work within a cabinet, freeing up more space for storage.

Clean Water: There is no chance of germs festering and reproducing Since water is not kept in the tank for an extended period. Water gets heated by the heater. A tremendous volume of water is stored in a tank-based water heater until needed, which is unsafe and wasteful regarding water and electricity usage.

Environmentally Friendly: Less water and power are used, which is better for the environment. Due to their increased durability, tankless water heaters are less likely to end up in a landfill shortly.

Options: Some tankless designs heat water using natural gas; because they operate more quickly, they're ideal for houses with higher demand. There are also electric variants available. If you decide to go electric, check that your electrical system is current and, if necessary, upgrade it.

7. Leak R8esistant: Traditional water heaters have a reputation for leaking as they age. Tankless water heaters can still leak, but since there is no tank, you won't have to worry about 50 gallons of water leaking into your garage.