PTAC Repair, Installation & Replacement Services
Armanch is a reputable "packaged terminal air conditioners" PTAC Repair & Maintenance Company in Toronto. We offer HVAC services to residential, commercial, and condominium buildings.
The majority of well-known PTAC manufacturers, including AMANA, ISLANDAIRE, PERFECT COMFORT, APPLIED COMFORT, CARRIER, MCQUAY, GE Zoneline, and GE Appliance, are familiar to our service technicians.
Hotel rooms, condo apartments, dorm rooms, stores, offices, banks, and restaurants regularly use PTAC units.
If You are a Property Manager or Homeowner, Contact Us To Get a Free Estimate Today!
For PTAC Units, we offer the following services:
Emergency Repair

Annual Maintenance

Upgrade, Installation & Replacement
 What Are Packaged Terminal Air Conditioners (PTACs)?
Packaged terminal air conditioners mounted on the exterior wall to offer heating and cooling hotels, apartments, and complexes regulate air in specific rooms.
Packaged terminal air conditioner TYPES
TAC Units use different designs to provide heating or cooling using one of the following methods:
Electric Resistance Heaters:

 The air distribution part of 

PTACs

 uses electric resistance heaters to provide heat. For these units to run the electric resistance heaters effectively, 240-volt wiring is typically needed.

Operating as a Heat Pump:

 Packaged terminal heat pumps can create heat by reversing their refrigeration cycle, and can be adjusted to the desired temperature based on the measured air temperature.

Operating As a Heat Pump With an Electric Resistance Heater:

 Heat Pumps are up to three times more efficient at producing heat than electric resistance heating. A complete terminal heat pump will consume substantially less energy than a 

packaged terminal air conditioner

 with electric resistance in all but the coldest climates.

Gas-Fired Heating:

 Packaged terminal air conditioners use a gas-fired heater with electronic ignition, and either LP or natural gas is delivered to the system. The heater pulls in outside air and exhausts combustion byproducts outdoors. Still, the heat from combustion is transmitted indoors using a heat exchanger. One disadvantage is the connection between the gas line and the device.
Notes: All PTAC units in Canada can use R-22, R134A, or R-410 refrigerant.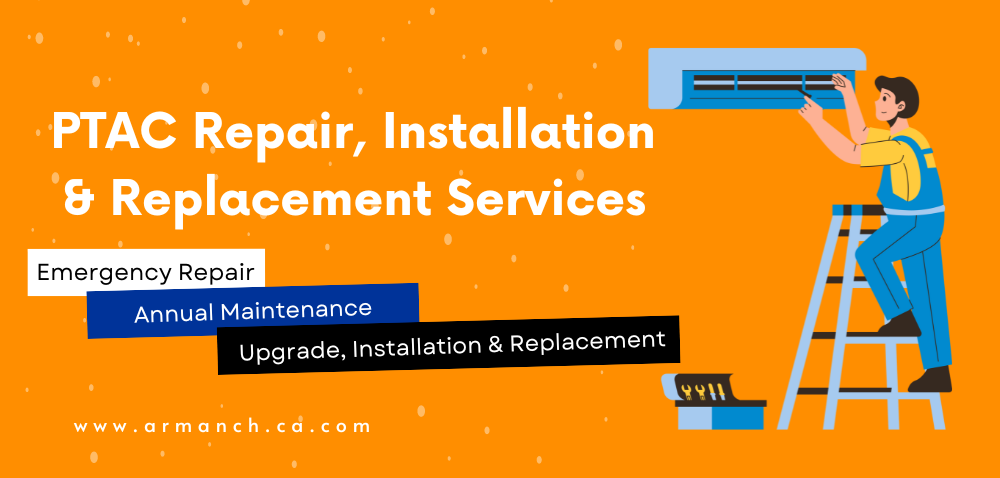 Sizes & Custom Dimensions for PTAC
Packaged terminal air conditioner Units come in various conventional sizes, including 42x16, 36x15, 40x15, and 26x16 inches. Some older Packaged terminal air conditioners might have unique measurements. We have frequently observed non-standard dimensions. If so, we can assist you in placing an order for brand-new, specifically designed PTAC units.
All Packaged terminal air conditioner installations at Armanch come with a warranty on the labor for at least a year. Additionally, most PTAC units include a 6-year compressor warranty and a 1-year limited parts warranty.