How Does an Industrial Chiller Work?
The refrigerant moves through the evaporator, compressor, condenser, and expansion valve during the mechanical compression cycle of a 
chiller
.
The condenser provides two functions during the cycle. It is necessary to first de-superheat the high-pressure refrigerant vapour (brought to a saturated condition). The refrigerant must be lowered to saturation temperature by transferring enough heat. Afterwards, condensation might begin.
Until the refrigerant is entirely condensed, the quality of the refrigerant degrades as heat is transferred from the refrigerant vapour to the air (or water in the case of a water condenser). Ideally, this happens at the condenser's outlet, but some sub-cooling is typical. The sub-cooled liquid prevents liquid flashing as the refrigerant loses pressure in the tubing and other components.
The refrigerant is a high-pressure, high-temperature liquid at this moment. It still needs to go through one more step before it can be used as a heat transfer medium for cooling: the temperature needs to be decreased. The thermostatic expansion valve performs this function by lowering the pressure and temperature.
Since the valve is primarily a superheat control, it cannot maintain constant pressure even though it modulates to aid. An evaporator pressure regulator valve can be incorporated into the system to maintain constant pressure.
The refrigerant passes through the evaporator tubing in the last stage, transforming into a saturated liquid and vapour mixture. The evaporator is exposed to warm air, which heats the refrigerant as it boils. The refrigerant doesn't become any hotter, but as the liquid boils off and the vapour becomes saturated and ready to start the process again, it does change state. The chiller repeats this procedure until the required temperature is reached in the room. Then the machinery turns itself off.
Types of Chillers that We Install
We will work with you to establish a high-efficiency, powerful cooling system that operates and delivers for many years to come depending on your cooling requirements.
We can install and service all brands in addition to the big production companies:
Johnson Control

Trane

Carrier

York

Berg

McQuay

Daikin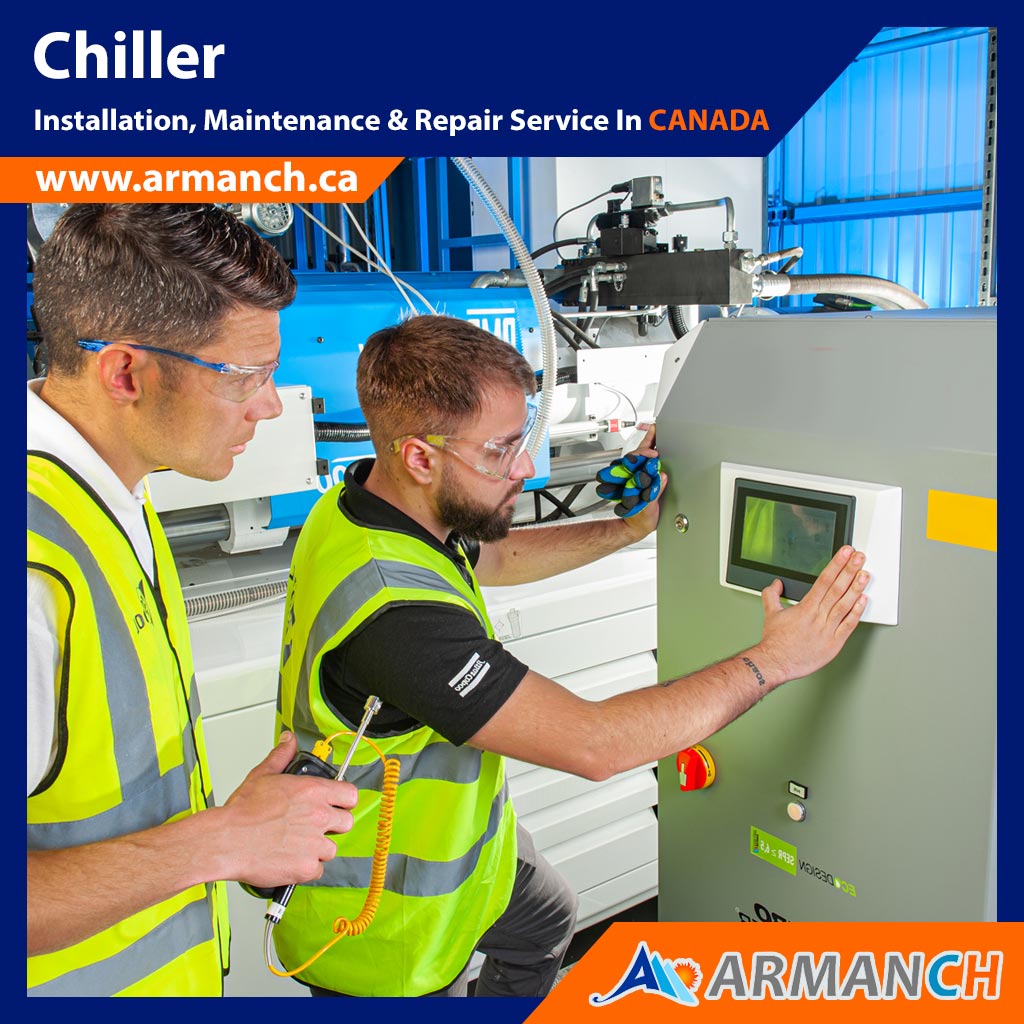 You may rely on our skilled and educated specialists to identify the ideal brand and product type to satisfy your company's particular needs. We provide both new installations and replacements, and we will apply for all government and utility incentives accessible to your company.
We Offer Chiller Repairs
To get your chiller equipment up and running as quickly as possible, we offer quick responses for service and repairs. Every chiller needs to operate at maximum efficiency because drops in service levels can indicate significant issues. The best approach to resolve any concerns is to use our repair service.
For urgent service needs, our experts are always available. Call right away to schedule servicing, and we will be there as soon as possible if you have any concerns about the operation of your chiller or if it has abruptly stopped working.
Why Chiller Maintenance Is Crucial
Has a commercial or industrial chiller been installed in your building? You now have a reasonably accurate estimate of how much it may cost to operate. Maintaining your chiller is a crucial commitment, whether it's for comfort or process cooling.
Our preventative maintenance programs are made to keep your chiller running at maximum efficiency, lower the risk of malfunctions, use less energy, and increase the equipment's lifespan. Armanch is the best HVAC-R services company in Toronto for maintaining any other heating or cooling equipment at your site and your commercial and industrial chiller.
Get a free quote from one of our Account Managers on the ideal preventative maintenance plan for your HVAC-R equipment by calling now.